Main Street's Power to Transform
Main Street's holistic, incremental approach to community revitalization works—this has been proven time and time again. In this special edition of Main Spotlight, NMSC Board Chair Ed McMahon takes a look at why it works. From exploring the power of small steps to the importance of investing in people and creating quality places, he makes an undeniable case for community leaders that Main Street is always a better economic strategy than "silver bullet" solutions.

Amazon recently announced the location of its second global headquarters, (HQ2). It will be split between Crystal City, Virginia, a fi rst ring suburb of Washington, D.C., and Long Island City, a New York City neighborhood in Queens. Almost 240 U.S. and Canadian cities bid for the headquarters, offering as much as $8 billion in economic incentives, but in the end, it all came down to one criteria: the ability to attract and retain talent workers. So, what are the lessons learned for the hundreds of communities that weren't chosen? Read More
---
New Affordable Health Insurance Alternatives
Since the Affordable Care Act (also known as Obamacare) went into effect in 2010, rates on the Health Exchanges operated by the federal government have risen dramatically. Many states have seen over 20 percent rate increases each year for over three consecutive years and several well-known carriers have stopped offering plans on the Exchanges completely. However, due to a recently signed Executive Order, there are some new lower cost alternatives that can make group health insurance more affordable for small businesses.
Understanding Plan Levels
Today, less than 50 percent of small businesses with fewer than 50 employees offer a group health insurance plan as they cannot afford to contribute to group health plans and meet the 50 percent employee participation requirements of most group carriers. This leaves employees no alternative but to purchase an individual non-group plan from their state's Health Exchange.
On the Exchanges, there are four levels of plans: bronze, silver, gold or platinum. Bronze plans have the highest deductible of around $6,500; with Silver plans around $3500; and Gold around $1,000. After the deductible, the plans also require the member to pay a portion of the claims until they reach what is called the "Out of Pocket" maximum.  This is the most the member has to pay in a given year. For Bronze and most Silver level plans, this amount is $7,350 per year.
---
Local Impact | Small Buisness Saturday 
Small Business Saturday® is more than a day to shop. It's a nationwide movement that shines a spotlight on the importance of supporting small businesses in communities across America. And Main Streeters are some of its biggest and best champions.
 American Express founded  Small Business Saturday in response to small business owners' most pressing need: more customers According to the 2017 Small Business Saturday Consumer Insights Survey, an estimated 108 million consumers reported shopping or dining at local independently-owned businesses the Saturday after Thanksgiving. This year's Small Business Saturday takes place on November 24.


Become a Neighborhood Champion
Together with American Express, we invite you to sign up to  become a Neighborhood Champion. As an approved Neighborhood Champion you will be eligible to receive Shop Small® merchandise, compliments of American Express, Sign up at ShopSmall.com/NMSC. Learn more here. 
In 2017, over 7,200 individuals and local business organizations—including nearly 600 Main Street organizations—signed up to become a Neighborhood Champion and rallied their communities by organizing local events, spurring small businesses to participate, and encouraging people to go out and Shop Small®. So whether you're a rookie or seasoned Small Business Saturday pro, we've rounded up promotion ideas and implementation tips from your Main Street colleagues to help you make this year's event your best one yet. 
Shop Small Passport
American Express offers a free, easy-to-use Shop Small Passport, which encourages shoppers to explore the small businesses in your neighborhood and receive stamps in a souvenir booklet. Click here to download your guide along with detailed instructions, printable materials, and digital promotions--including sample social media posts!
---
Strategic Planning Through Transformation Strategies
Introduction 
The "Main Street Refresh" initiative aims to rethink the traditional Main Street model so the program is more responsive to economic context and its outcomes are directly measurable. The Wyoming Main Street Program, a program of the Wyoming Business Council, has rolled out the Refresh process in a number of its communities. 
Every community has a unique set of place-based assets, anchors, and consumer markets that help to define a healthy business district. Enhancing those efforts through a targeted economic development strategy requires a more thorough understanding of the marketplace. One of the best ways to help retain existing businesses and recruit new ones is by preparing information about the specific customers who are currently served or who could be served by your business district. The local commercial revitalization program provides a very important benefit by developing a comprehensive analysis of the district market that aligns vision and consumer data with transformation strategies that drive the organization's revitalization programming. Most market analysis consultants perform their work and provide local community leaders simply with information. The Main Street approach is to work together with organization leaders to understand the market data and develop comprehensive and execution driven strategies to deliver economic development results. This approach accomplishes several goals. 
Builds local knowledge and understanding of your district's economy to create a foundation for successful revitalization; 
Identifies current strengths of the business mix and existing business clusters 
Supplies relevant consumer data to the revitalization program so it can help existing businesses become stronger 
Identifies opportunities for future business attraction and business cluster expansion 
Builds a strategic framework for niche development, including real estate development, business development, promotions, marketing, branding, etc. 
This philosophy is enveloped within the new Main Street Refresh. At the core of the Main Street Refresh are economically-grounded "Transformation Strategies." These Strategies will serve as the foundation for the revitalization program's work. Most of activities within the organization's annual workplan as part of the 4-Point Approach should then be guided by the Strategies and aligned around an agreed direction and outcome. As part of the technical assistance, and as an aid to making the new format easier to adopt, the National Main Street Center developed nearly 20 "off-the-shelf" strategies that can be employed in a range of conditions seen across a variety of communities. These are, essentially, ready-made Transformation Strategies. They are a place to begin and can be customized along the way. We have called this initial set "Catalyst Strategies." The goal of the provided service was to assist the Sundance community and program leadership to identify the strategies that are the best fit by using information they already have in hand or that can be easily obtained through data and survey collection. Read Full Report HERE 
Demographic & Income Comparison Profile
Retail Goods and Services Expenditures
---
Sundance Town Park Concept Plan – Public Open House #1 Questionnaire
Survey Closed - See resultes above
---

Using Local Search Trends to Attract More Customers to Your Main Street

 
In an age of instant gratification, Main Street stores can actually beat e-commerce giants by providing customers with the products they're searching for same-day, without waiting for shipping. But first, they have to be local-search friendly. Here's a list of things to do to get there.
Read More
---
Main Street In Action
This month, we rolled out four new Main Street America videos highlighting the power of the Main Street movement, Main Street Approach, economic impact of Main Street, and the incredible volunteers that make Main Street's grassroots network so effective. They're short, succinct, and sharable—we hope you can use them to build the Main Street movement in your community!
---
5 Tips for Main Street Marketing
Marketing, especially on social media, can be daunting for even the most seasoned Main Streeter. Here are some quick marketing ideas from our friends at Tourism Currents that any Main Street community can use for more visibility. Read More
Update from meeting on 10.12.17:
Linda Klinck from the Wyoming main street program Was there to help identify the next steps to implementing the Master plan developed through community input.
Linda provided us with a four point economic development strategy that has been successful in other Wyoming Communities. It outlines how to use Design, organization, promotion, and Economic Vitality to work toward our main goal of creating a vibrant downtown district that can re-establish downtown as the social hub of the community.
Based on our Master plan, this is what we heard from the community. (Refer to page 45 and 46 in master plan final)
The features you requested that would make Downtown a place you would visit are all being addressed and implemented. The next steps toward our goal will be: (refer to page 43 and the top of 44)
The major focus of the project for the next year will building a Town Square in place of the School administration building and a Historic park and gathering area around Old Stoney. (refer to page 52)
We would like your input on what you would like to see in this space that would make you visit often.
The Main Street Committee would like your input on ways to improve your community.
Please take the time to download this game and contribute your thoughts as to what you would like to see in your downtown area.
The Main Street project is split into 6 different areas, please pick an area (by color), or areas and fill out a survey on each.
The completed survey can be returned to the City hall, Museum, or the Chamber of Commerce for consideration.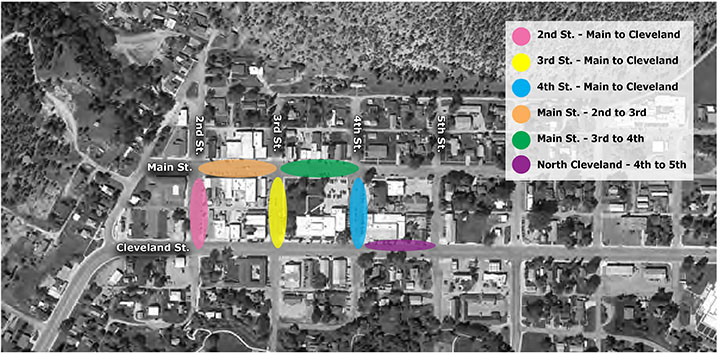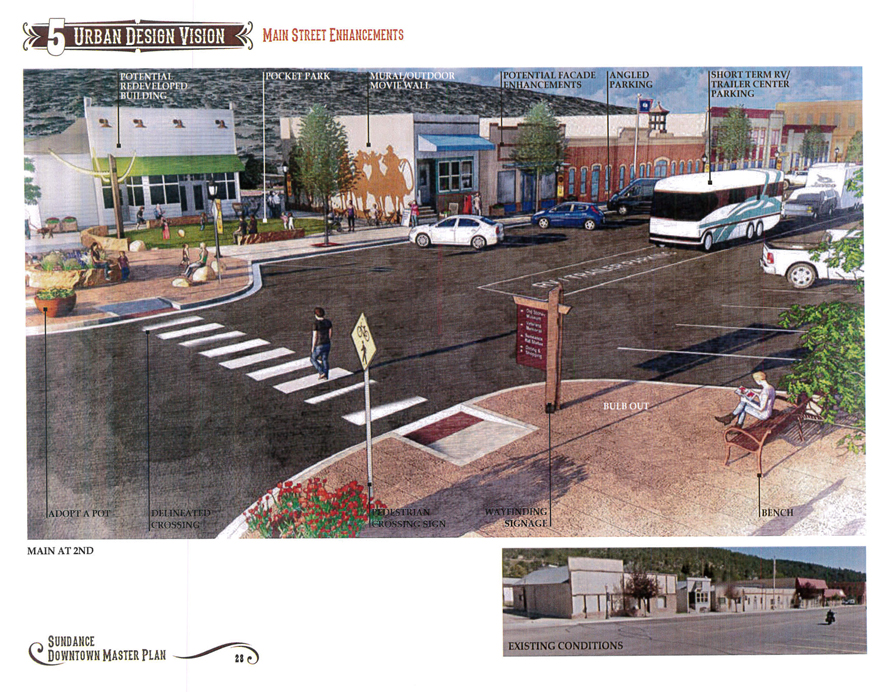 The Sundance Main Street experienced a beautification project last month disguised as a trackhoe and a large group of men and machines; who over the course of two days, redesigned the corner at the nexus of the town square.  These volunteers assembled to remove the North Pole Locker, a dilapidated building that had sat empty quietly occupying the corner of 2nd and Main Street for nearly four decades.  After months of negotiations between the City of Sundance and the landowner, an agreement was reached to allow the debris from the building demolition to be hauled to the City landfill.
On a sunny weekend, a large number of volunteers climbed into the cockpits of trackhoes, backhoes and dump trucks, that were donated by generous companies and individuals, and with precision and determination removed the building and left behind an empty space.  What next fills this empty space may be a VFW meeting hall and it's under discussion to possibly share its spacious corner lot with a pocket-park that could include pedestrian seating and green space.  Stay tuned for more pictures and information as this Sundance Wyoming Main Street project continues.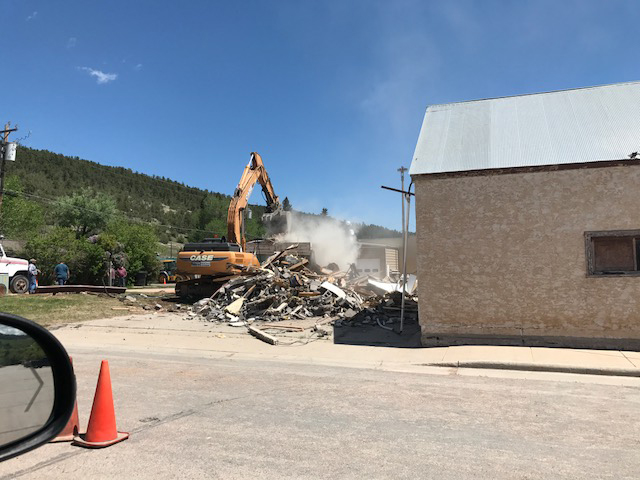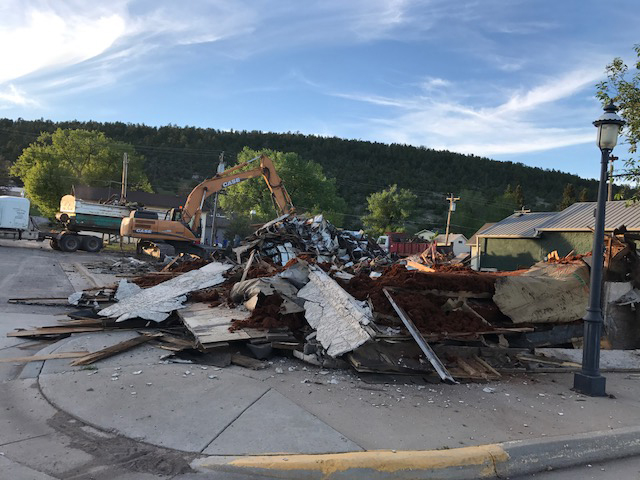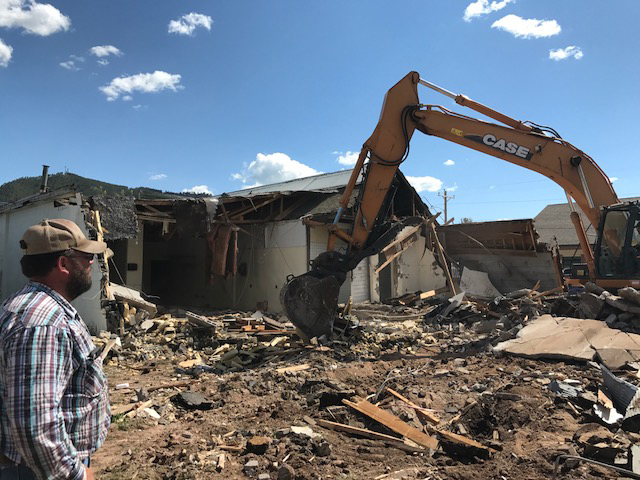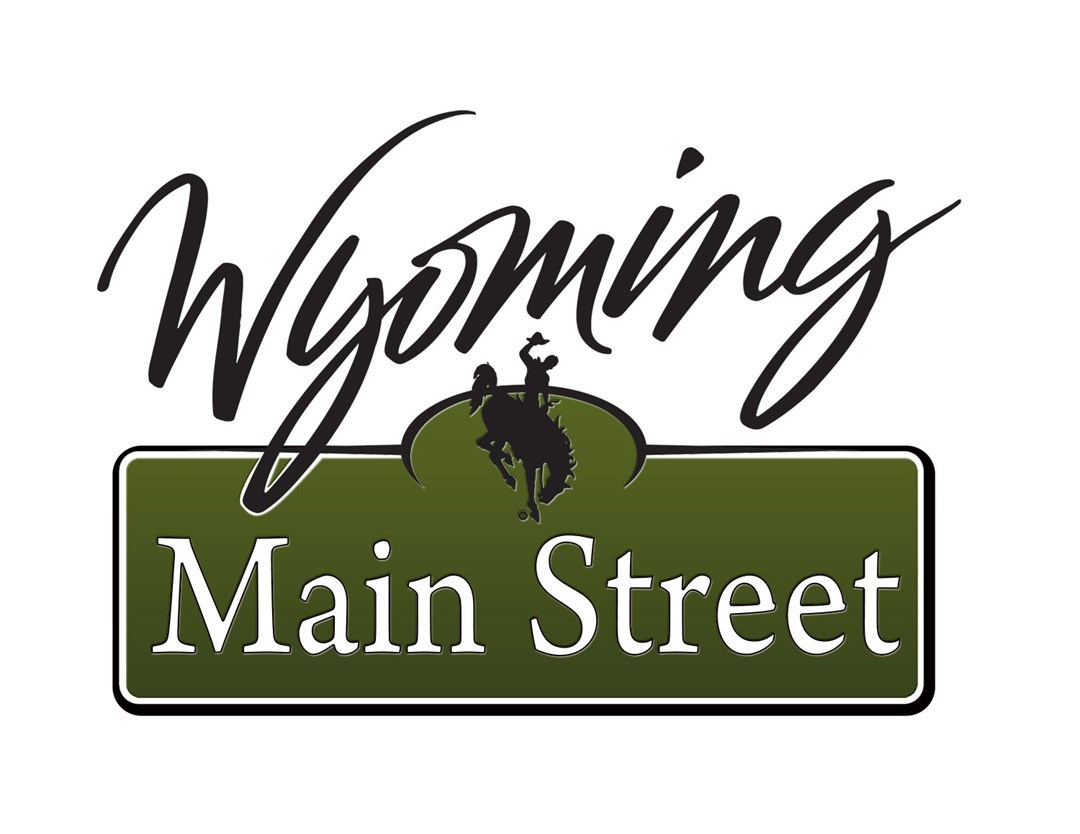 We are renovating Sundance Main Street one phase at a time to make our town a more welcoming and functioning attraction for locals and tourists alike! 
The next phase of the Main street project is the North Pole Locker on Main and Second Street. Below is one proposed idea for the new space. 
We are renovating an old sandstone building that was once a High School. The building is nick-named Old Stoney.
The renovation has been ongoing for years funded by donations and we just recently received a grant for a major portion of the renovation. If you would like to be a part of the Old Stoney renovation project we could use your donations.
In conjunction with the building renovation we are removing an old school administration building to create a Historic park on the site next to Old Stoney, this park will be Old Stoney Park. It will be adjacent to Old Stoney and will have historic attractions including an old jailhouse, There will also be a stage for outdoor events.
See the Plans & Progress
Check back to see the progress on this project and to see how you can be a part of this fantastic project!