Sundance Town Park Concept Plan – Public Open House #1 Questionnaire
Please take a moment to take our quick survey!
---

Using Local Search Trends to Attract More Customers to Your Main Street

 
In an age of instant gratification, Main Street stores can actually beat e-commerce giants by providing customers with the products they're searching for same-day, without waiting for shipping. But first, they have to be local-search friendly. Here's a list of things to do to get there.
Read More
---
Main Street In Action
This month, we rolled out four new Main Street America videos highlighting the power of the Main Street movement, Main Street Approach, economic impact of Main Street, and the incredible volunteers that make Main Street's grassroots network so effective. They're short, succinct, and sharable—we hope you can use them to build the Main Street movement in your community!
---
5 Tips for Main Street Marketing
Marketing, especially on social media, can be daunting for even the most seasoned Main Streeter. Here are some quick marketing ideas from our friends at Tourism Currents that any Main Street community can use for more visibility. Read More
Update from meeting on 10.12.17:
Linda Klinck from the Wyoming main street program Was there to help identify the next steps to implementing the Master plan developed through community input.
Linda provided us with a four point economic development strategy that has been successful in other Wyoming Communities. It outlines how to use Design, organization, promotion, and Economic Vitality to work toward our main goal of creating a vibrant downtown district that can re-establish downtown as the social hub of the community.
Based on our Master plan, this is what we heard from the community. (Refer to page 45 and 46 in master plan final)
The features you requested that would make Downtown a place you would visit are all being addressed and implemented. The next steps toward our goal will be: (refer to page 43 and the top of 44)
The major focus of the project for the next year will building a Town Square in place of the School administration building and a Historic park and gathering area around Old Stoney. (refer to page 52)
We would like your input on what you would like to see in this space that would make you visit often.
The Main Street Committee would like your input on ways to improve your community.
Please take the time to download this game and contribute your thoughts as to what you would like to see in your downtown area.
The Main Street project is split into 6 different areas, please pick an area (by color), or areas and fill out a survey on each.
The completed survey can be returned to the City hall, Museum, or the Chamber of Commerce for consideration.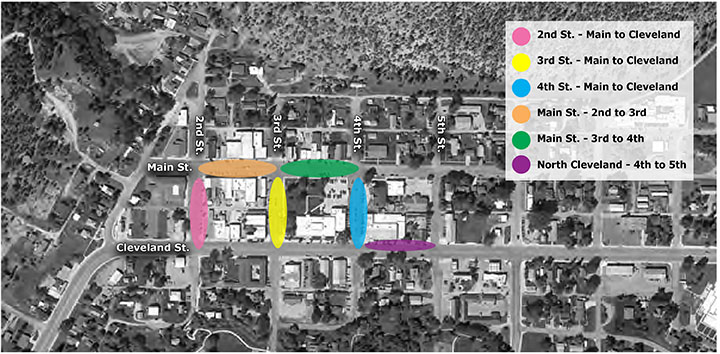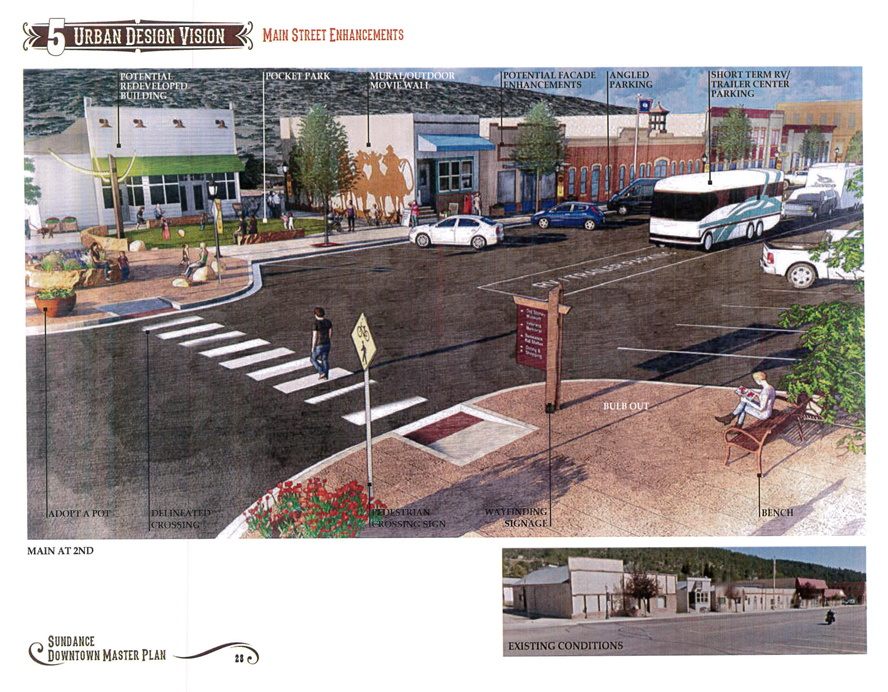 The Sundance Main Street experienced a beautification project last month disguised as a trackhoe and a large group of men and machines; who over the course of two days, redesigned the corner at the nexus of the town square.  These volunteers assembled to remove the North Pole Locker, a dilapidated building that had sat empty quietly occupying the corner of 2nd and Main Street for nearly four decades.  After months of negotiations between the City of Sundance and the landowner, an agreement was reached to allow the debris from the building demolition to be hauled to the City landfill.
On a sunny weekend, a large number of volunteers climbed into the cockpits of trackhoes, backhoes and dump trucks, that were donated by generous companies and individuals, and with precision and determination removed the building and left behind an empty space.  What next fills this empty space may be a VFW meeting hall and it's under discussion to possibly share its spacious corner lot with a pocket-park that could include pedestrian seating and green space.  Stay tuned for more pictures and information as this Sundance Wyoming Main Street project continues.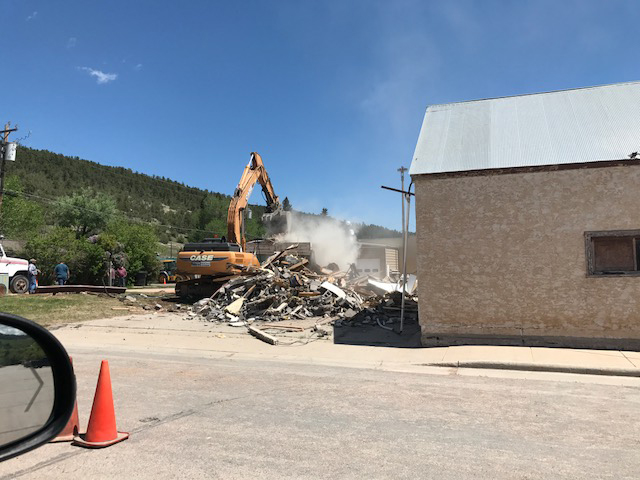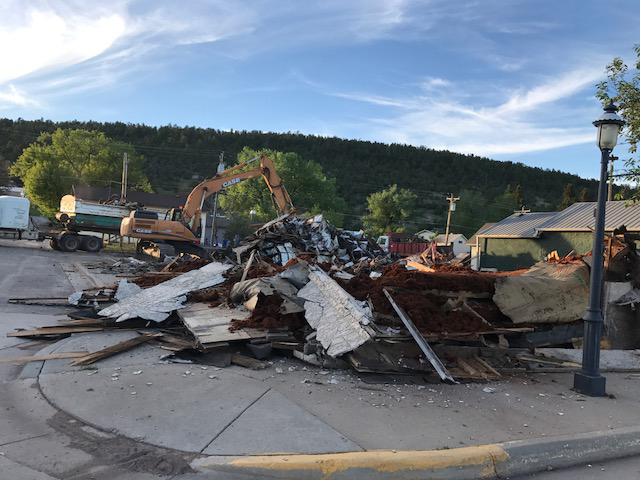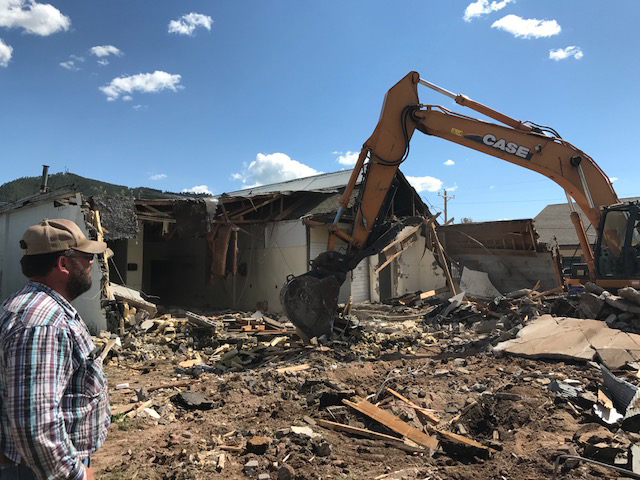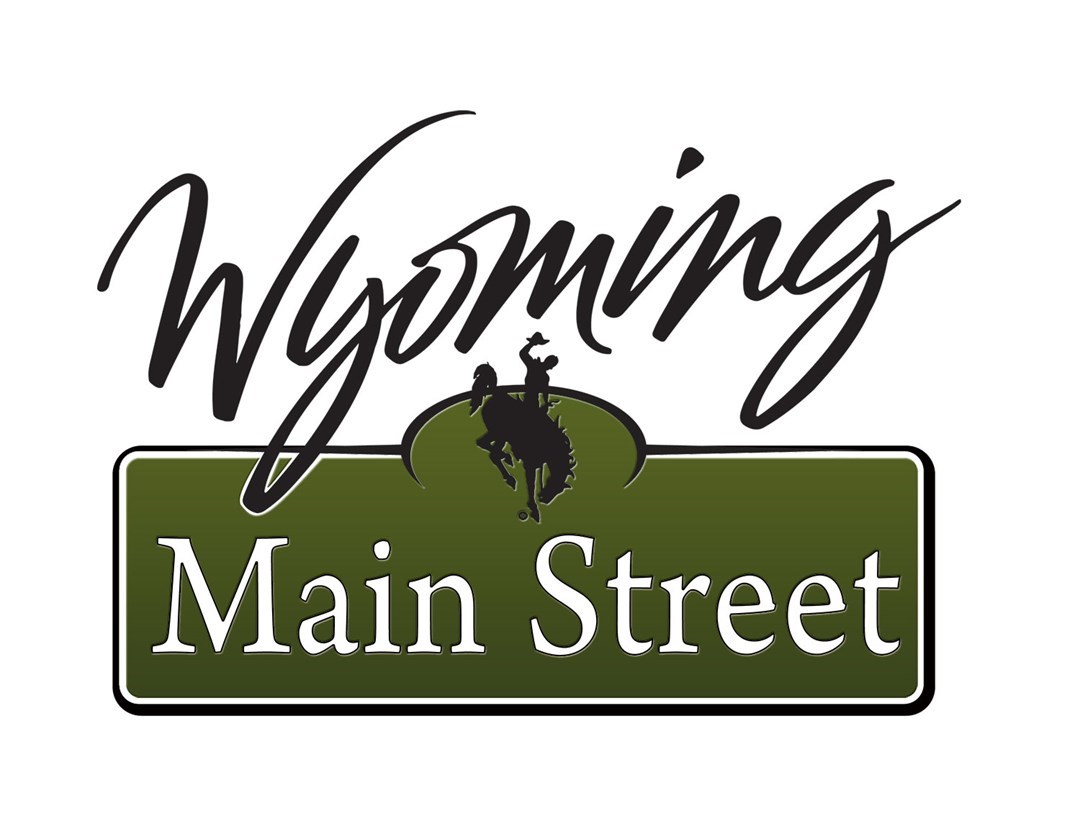 We are renovating Sundance Main Street one phase at a time to make our town a more welcoming and functioning attraction for locals and tourists alike! 
The next phase of the Main street project is the North Pole Locker on Main and Second Street. Below is one proposed idea for the new space. 
We are renovating an old sandstone building that was once a High School. The building is nick-named Old Stoney.
The renovation has been ongoing for years funded by donations and we just recently received a grant for a major portion of the renovation. If you would like to be a part of the Old Stoney renovation project we could use your donations.
In conjunction with the building renovation we are removing an old school administration building to create a Historic park on the site next to Old Stoney, this park will be Old Stoney Park. It will be adjacent to Old Stoney and will have historic attractions including an old jailhouse, There will also be a stage for outdoor events.
See the Plans & Progress
Check back to see the progress on this project and to see how you can be a part of this fantastic project!