You are on a family vacation...the SUV is loaded to the ceiling...You are tired of driving and its time for break. The Sundance Area has many options, maybe you made it to America's First National Monument Devils Tower and are walking or hiking around the base. Maybe you are eyeing the Bearlodge Mountains in the background of Sundance, So don't stay cooped up in the family car - Get out hike, walk and explore Sundance.
Climbing Devils Tower National Monument Video
Explore Popular Area Recreation Options
Climb Devils Tower
Climbing Devils Tower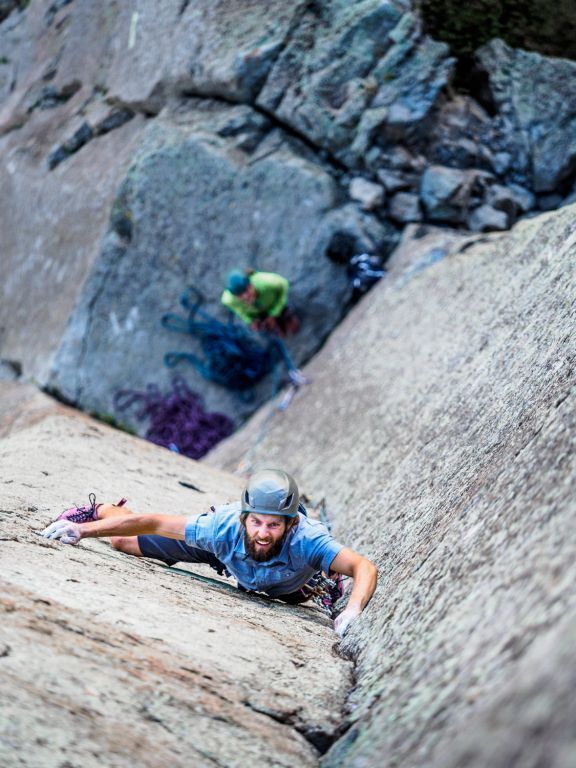 One of the most Iconic symbols in America is Devils Tower National Monument. You can walk around the base, take photos and even picnic with the prairie dogs. Ranger guided hikes are available most days. But how about you discover your adventurist side and see the world from an unbelievable spot "THE TOP OF THE ROCK." Never climbed before? No Problem! There are professional guides available. Climbing this amazing monument will help you refocus, release and revive yourself way beyond your weekly yoga class! Everyone is looking for his or her Wyoming Experience, Climb for yours!   
Crook County Geocache Roundup Passports
Year 'Round Crook County Geocache Roundup Passports

Geocaching is a global high-tech treasure hunt where participants use a combination of online clues and GPS coordinates to find "caches" (hidden containers). The Sundance area has several hidden caches. So get your GPS and get out there!
Click the link below to download the Sundance Geo Caching passport. Download HERE
We have prizes for folks who find at least 10.  
**ATTN MOBILE APP USERS**
A couple geocaches cannot be viewed unless you are a Premium Member.  Use "Blocked" as the code for those or they can be viewed at www.geocaching.com
Hunting in Crook County
Crook County Hunting
Hunter/Landowner Assistance Program (Sundance is in the Sheridan Region)
Wyoming Game, Fish & Parks - Hunting
Crook County Walk-In Hunting Areas
Over-the-Counter License Sales - Sundance Retail Locations
Go Fish in Crook County
Fishing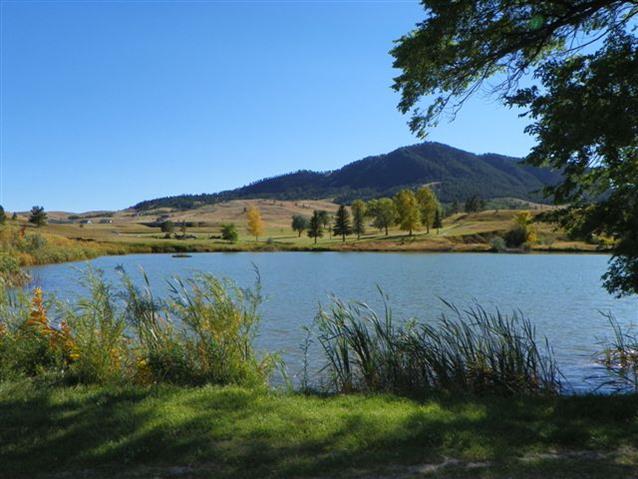 The Washington Park Pond is located in the heart of Sundance. This local favorite family fishing hole is stocked every year with trout. It has a great picnicking area with a fun playground for all ages. Non-motorized watercrafts are permitted on the pond. It has a handicap accessible fishing dock.
The Cook Lake Recreation Area has 32 campsites and 33 sites. Cook Lake is stocked with trout, catfish, and sunfish. A wheelchair accessible pier is onsite.
For the Fly Fisherman, Sand creek is located 15 miles east of town and is a Blue Ribbon fishery with Rainbow and Brown Trout
9,000 acre Keyhole Reservoir is home to many species including walleye, northern pike, crappie, smallmouth bass, sunfish, bluegill, perch, and catfish. Stocked with 200,000 to 250,000 walleye fingerlings annually and a full service Marina with boat rental, Keyhole State Park is open year round and offers nine campgrounds that are all overlooking the lake. There aremore than 170 sites with tables and grills. Most of the sites will handle large R.V.'s and trailers. Tent or R.V. camping is possible at all sites. Some of the sites are in the trees and some are out in the open.
Non-Resident Fishing License Fee: Daily -$14.00  Yearly – $104.50
Available at: Rapid Stop Conoco and Off The Grid Sports 
Sundance Winter Recreation
Sundance Winter Recreation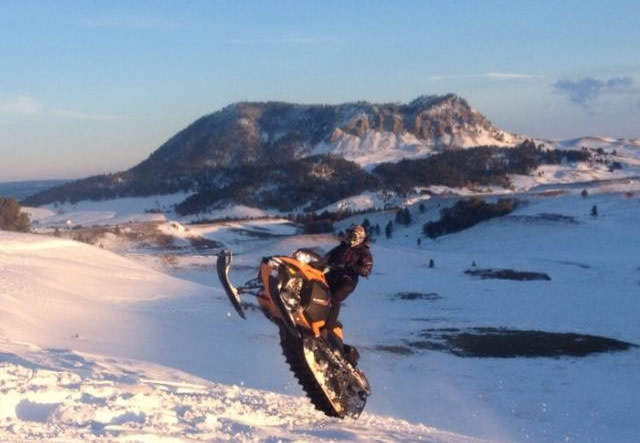 Snowmobiling in the Bearlodge Mountains adjacent to Sundance is fun for the entire family! Ride miles of easily accessed marked trails. Lodging, fuel and food is just minutes away! Also enjoy our art gallery, shopping and learning about Sundance's history at our free Museum in the courhouse basement. See SPECIAL PACKAGES offered below! Wyoming law requires that all snowmobiles must have either a current Wyoming Resident or Nonresident user fee decal prominently displayed on the outside of each snowmobile. Each permit is thirty-five dollars and may be purchased at Off the Grid Sports, 204 Main Street or Rapid Stop Conoco, 565 W. Hwy. 14.
BEARLODGE & NORTHEAST WYOMING SNOWMOBILE TRAILS Map 
This Bear Lodge trail system is maintained through cooperative efforts of the Wyoming Department of State Parks & Cultural Resources, Division of State Parks, Historic Sites & Trails, the U.S. Forest Service, and local snowmobile clubs and trails.
Seventy-eight miles of groomed, and 9 miles of ungroomed trails located north of Sundance. Machine services and repair available in Sundance. Food and lodging in Sundance and Hulett. Snow depths average 1 feet to 4 feet.
Elevations: 5,000 feet to 7,000 feet
Season: December 15 through March 15 - WEATHER PERMITTING
Season Temperatures: +40° F to -20° F
Horseback Rides
See the area by Horseback
The Bearlodge Mountains also offers areas to explore on horseback along with a campground specific to horse camping. The Trails head campground is on Government Valley road on the East of Sundance. This rugged but serene country is ideal for horseback riding. *Water for horses is normally available along many of the trails. The Sundance Trailhead/Campground offers many amenities for the equestrian enthusiast including drinking water, horse corrals, restrooms and campsites.
Interested in trail rides? Seven J Outfitters is here to help you explore the scenic Bear Lodge Mountains! 
Click Here!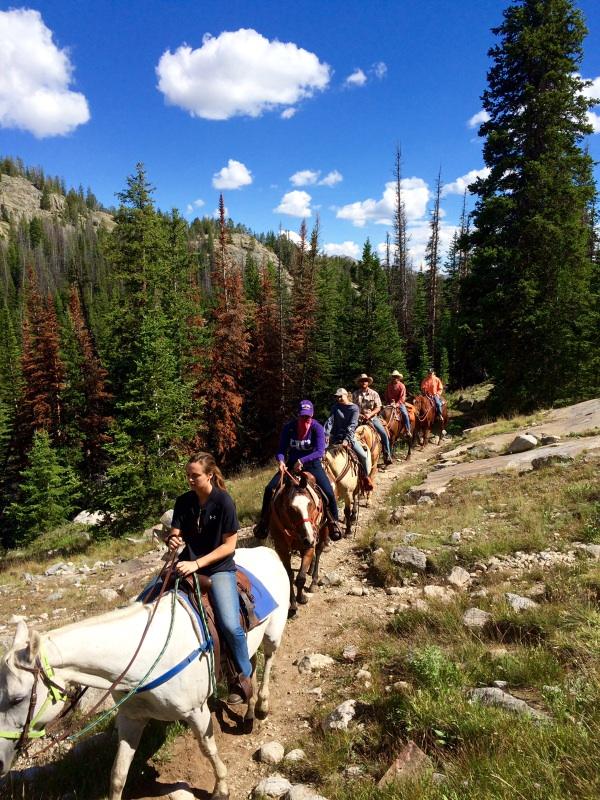 ATV/OHR Roads & Trails
OHV Roads/Trails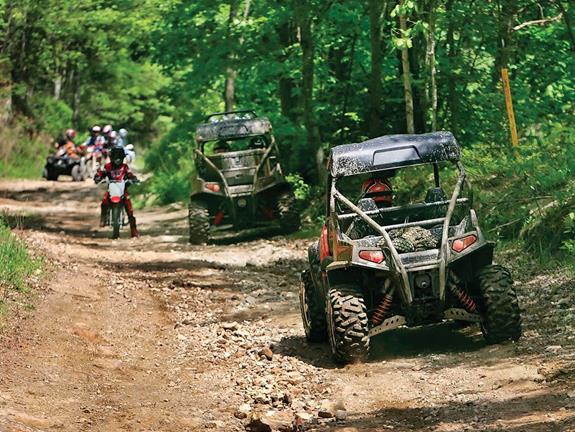 The mountains around Sundance are full of great OHV roads/trails that will take you into the heart of Wyoming's Black Hills. You will see wildlife, creeks, and wild flowers, all while leaving your reality behind. The trails have everything for the beginner to the advanced rider. If you haul that machine you might as well use it to Experience Wyoming! Trail permits are available at the Rapid Stop Conoco at exit 185
Biking and Hiking in the Bearlodge Mountains
Biking and Hiking in the Bearlodge Mountains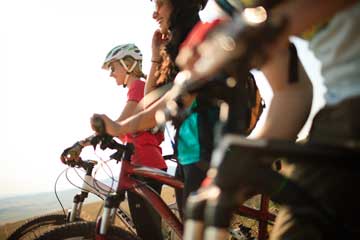 Around the City of Sundance are the Bearlodge Mountains, which are full of some world-class mountain bike trails that are being missed out on by many.  These trails will guide you through the trees and give you views of many of the surrounding attractions such as Custer Expedition Route, Devils Tower, Twin Missouri Buttes and even Crazy Horse. They will also give you that opportunity to stretch your legs, release from reality and revive your view on how great our world really is. For goodness sakes you are on vacation!
This is a year round activity here in Sundance. In the winter, which seems to be our longest season you can hit the fully groomed fat bike trails up Fish Canyon just south of Sundance.
So strap on your bike and stay an extra day. Don't miss your chance to see the Black Hills of Wyoming in a whole new way!
Information on fatbiking in Crook County, click here.
Paddle Sundance
Paddle Sundance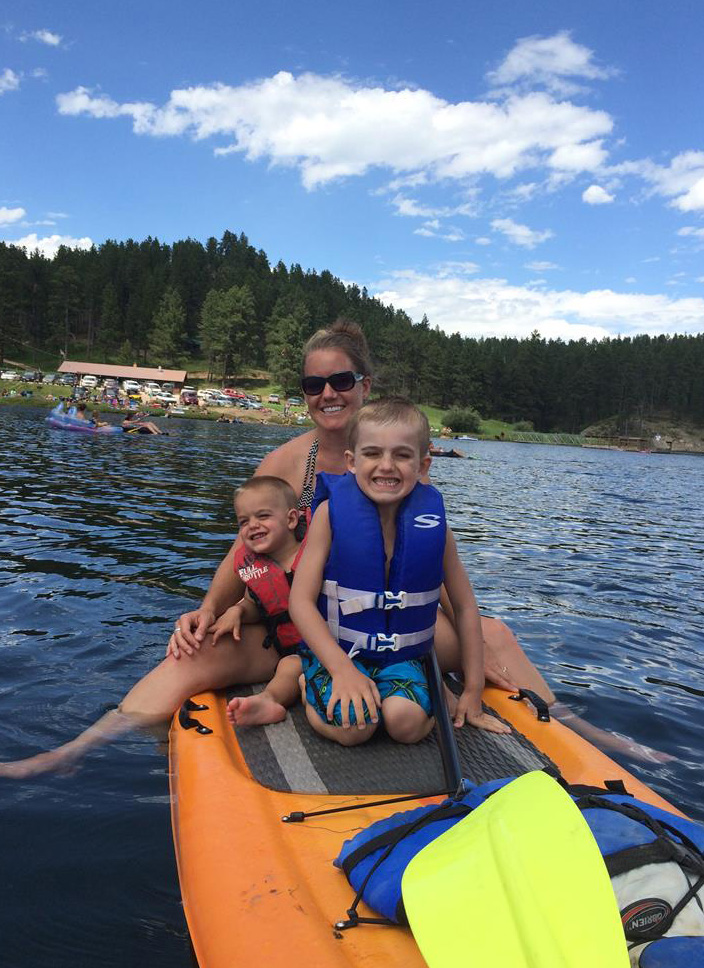 Maybe you made your way to Wyoming to "Surf the Snake" or Raft the Yellowstone. Well why you are taking in the great sights around Sundance why not stretch out you paddle arms and paddle board or kayak on the Sundance Pond or take the short trip up to Cook Lake in the heart of the Bearlodge Mountains. This is a great way to take in and enjoy the peaceful world of Wyoming!
Play and Adventure in Sundance!
Play and Adventure in Sundance!
The city of Sundance has a variety of thing to do in town while enjoying the outdoors.
Just to name a few there is a beautiful city walking path, Sundance Country Club, City Pool, Clarenbaugh Park with kids play equipment, tennis courts, a skate park, sand volleyball & basketball courts!