Sundance Square
Sundance Square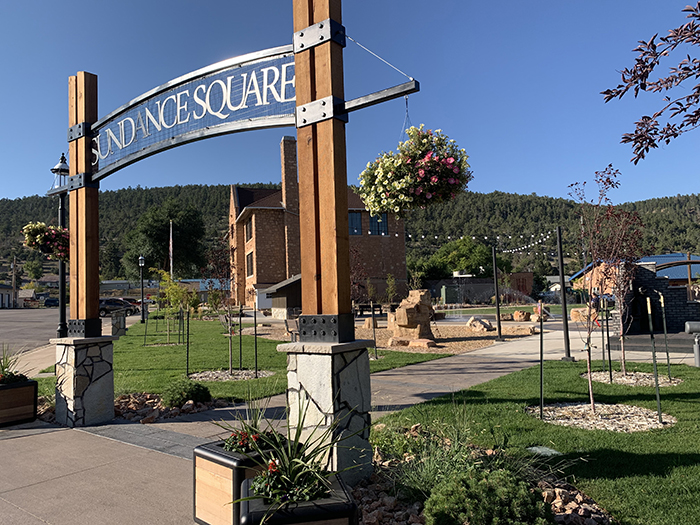 Sundance Square, located in the heart of Sundance right next to the Old Stoney building! There is a splash pad, picnic tables, restrooms and room to stretch your legs! In the summer there are movies in the park and more! Check out the calendar of events to see what's happening.
---
Bearlodge Mountain Recreation & Black Hills National Forest
 Bearlodge Mountain Recreation & Black Hills National Forest (1 Mile)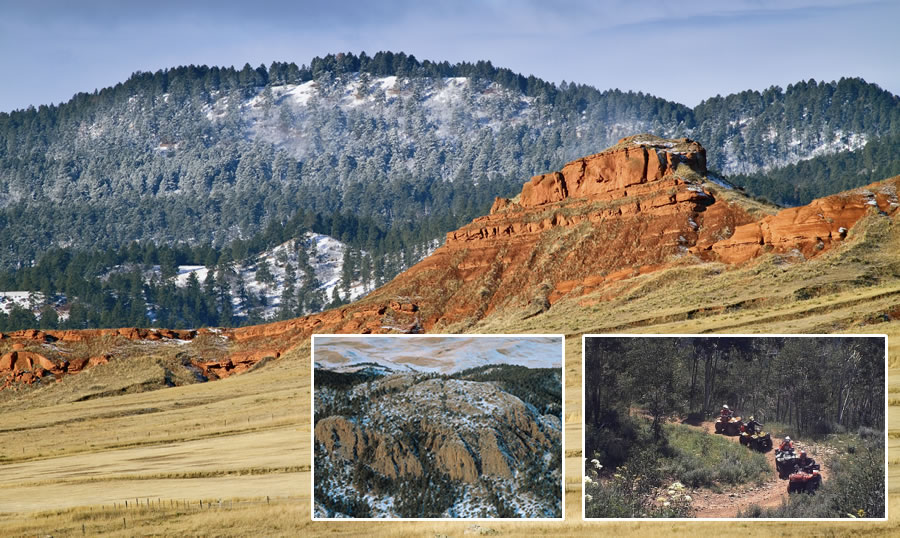 Motorized trail recreation in Wyoming is very popular. Many motorized activities take place in conjunction with non-motorized activities, such as camping, hunting and fishing, and the Bear Lodge area, including the Bearlodge Mountains are no exception. Permits are required are for all Off Road Vehicles and license plates if driving on any roads. Bearlodge Ranger District encompasses the northern portion of the Black Hills on the Wyoming side.  It is located in east central Crook County on approximately 170,000 acres.
The District is unique because it contains large areas of hardwood forest as compared to other Ranger Districts. Timber harvest and related silvicultural activity is the largest resource program on the district. The district has an office located in Sundance at 101 S. 21st Street. 307-283-1361. The Bearlodge Ranger District of the Black Hills National Forest boasts miles and miles of uncrowded trails with breathtaking views for the hiker, mountain biker or horseback rider. The Sundance trailhead are located within 1 mile of Sundance.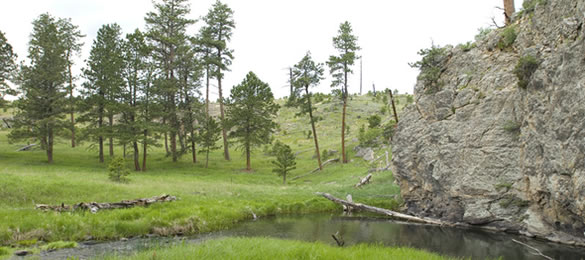 The Black Hills National Forest is in western South Dakota and northeastern Wyoming, covering an area 125 miles long and 65 miles wide. Enjoy yourself while viewing the many rugged rock formations, canyons and gulches, open grassland parks, tumbling streams, and deep blue lakes. Millions of visitors come to the Black Hills each year to experience the rich and diverse heritage. In the immediate vicinity is trout fishing, access to over 300 miles of snowmobile trails, hunting, hiking and camping. Forest Service campgrounds near Sundance are Cook Lake, Reuter, and Sundance Trailhead.
Game species on the district include white-tailed and mule deer, Rocky Mountain elk, Merriam's turkey and Ruffed grouse.
Please remember to Tread Lightly© and carry a current travel management map or land use map from the land managing agency. It is your responsibility to know local land management allowances and restrictions.
Learn more:
ORV Permits. In Sundance, permits may be purchased at Off the Grid Sports (Inside Dillon's Hardware), Crook County Treasurer and at Rapid Stop Conoco. 
Wyoming Off-Road Vehicles & Trails Page
ATV's and Hunting Brochure 
Wyoming 2011-12 Off -Road Vehicle Program Informational Brochure 
---
Crook County Museum & 1875 Gallery
Crook County Museum & 1875 Gallery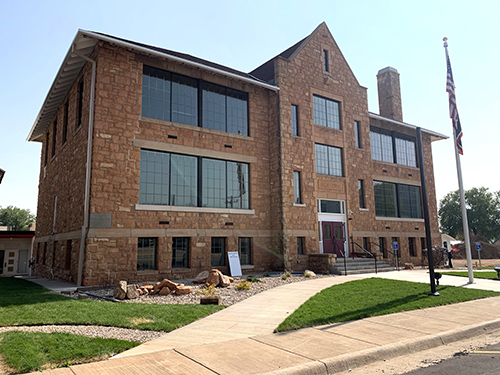 Go on the adventure of a lifetime at the Crook County Museum. 
History doesn't have a state line; the historical aspects of the west can be seen in the Crook County Museum & 1875 Gallery in picturesque Sundance, Wyoming. The History of Crook County is depicted in the many dioramas and exhibits, over 7000 artifacts, which are housed in the newly renovated, historic Old Stoney Building.   The original court room where the Sundance Kid had his trial is on display in one of our permanent exhibits along with a gun exhibit that is phenomenal.   Experience a walk through time in the replica barn and stable with its buggy and work tools.  Glance in the bunk house that has all the amenities a cowboy bachelor could want.  Listen for the sounds of stampeding buffalo hooves as you look at the Vore Buffalo Jump diorama with all its grand archeology discoveries.   
The 1875 Gallery has the best regional art for sale from bronze sculpture, colored pencil, water color, photography, collage, hand formed jewelry, pottery, and oils.  The 1875 gallery has art from wildlife, still lifes, interpretive, conceptual, and functional. This museum & art gallery has it all and something for everyone. The 1875 Gallery was formed to give our local artists a place to sell and show and give others a chance to be exposed to the art world.  
120 N 4th Street., Sundance
For business hours call 307-283-3666
In northeast Wyoming, the tower may be the gem most visitors seek to find, yet the communities around the monument hold bigger cultural treasures of their own.  Moorcroft, Hulett, and Sundance each have a museum dedicated to preserving the history as old and vast as the tower itself.   Moreover, these institutions chronicle all who have explored, survived and settled this piece of the west. 
Each museum offers free to a minimal admission and can be visited on the way to or from Devils Tower National Monument.  Facilitated by the Crook county Museum District, these cultural institutions share a perspective of the past, while allowing the progress of tourism in a county rich in natural wonders and western traditions.  Use a day and drive our beautiful museum loop tour.
There are two other museums in the area, each with there own price of history, they are the Hulett Museum & Art Gallery and the West Texas Trail Museum in Moorcroft.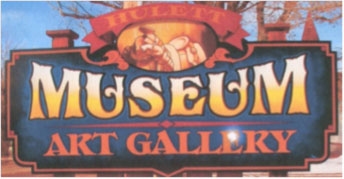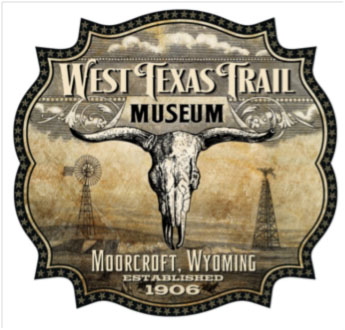 ---
Sundance Country Club
Sundance Country Club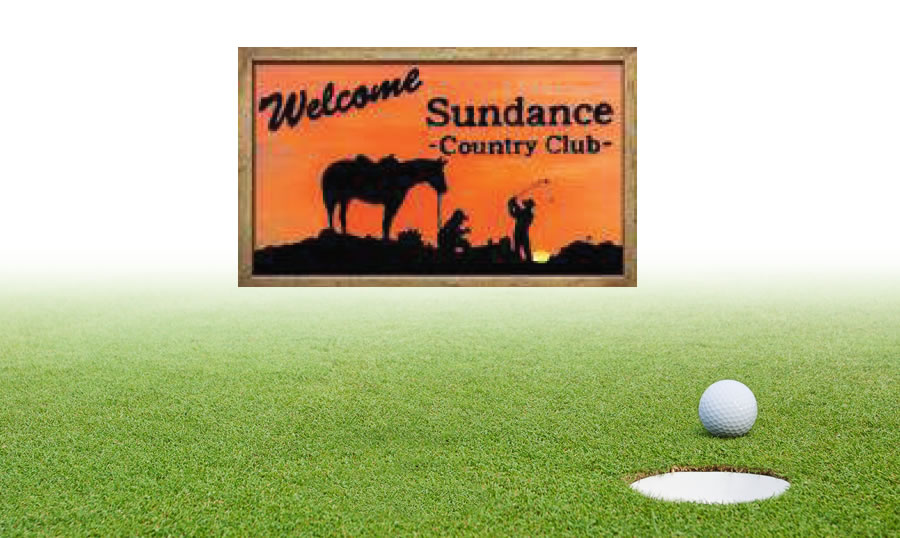 1612 East Cleveland Street
307-283-1191
Sundance Country Club is a 9 hole course designed for all skill levels that utilizes the natural landscape for its fairways and green placement. The course is generally not crowded so you can enjoy your day and beautiful views of the surrounding area. Special rates on Mondays, men's day on Wednesday afternoons, Ladie's day on Thursday Afternoons. Come join us, you will be glad you did.
Club and cart rentals available
Open to the public 8am to dusk on weekends and 9am to dusk on weekdays.
---
Devils Tower National Monument
Devils Tower National Monument (28 Miles)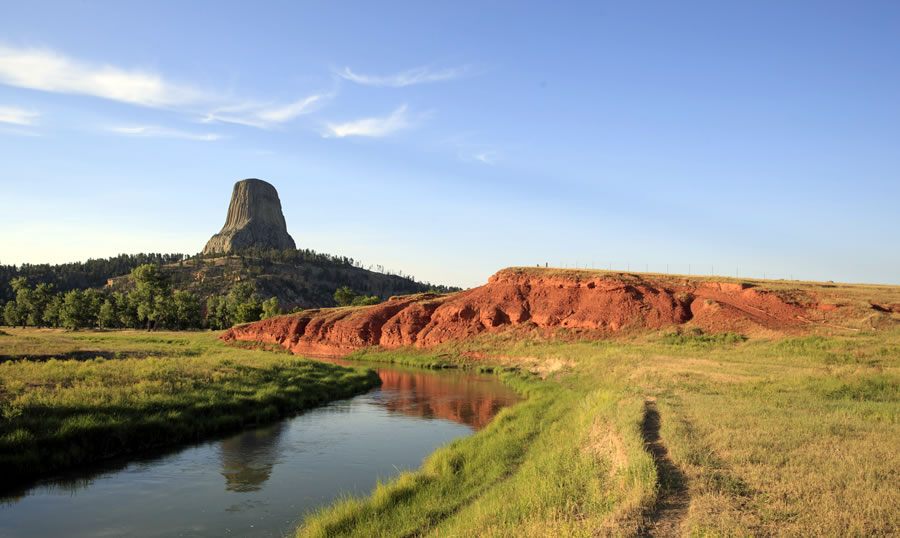 Devils Tower rises above the surrounding grassland and Ponderosa pine forests like a rocky sentinel. Northern Plains tribes have worshipped near this remarkable geologic formation for thousands of years. Fur trappers, explorers, and settlers alike were awed by the tower's majesty. In 1906, President Theodore Roosevelt established Devils Tower as our nation's first national monument.
The site is considered Sacred to the Lakota and other tribes that have a connection to the area. Hundreds of parallel cracks make it one of the finest traditional crack climbing areas in North America. Devils Tower entices us to explore and define our place in the natural and cultural world.
Learn More
Devils Tower National Monument Website
---
The Vore Buffalo Jump
The Vore Buffalo Jump (13 miles)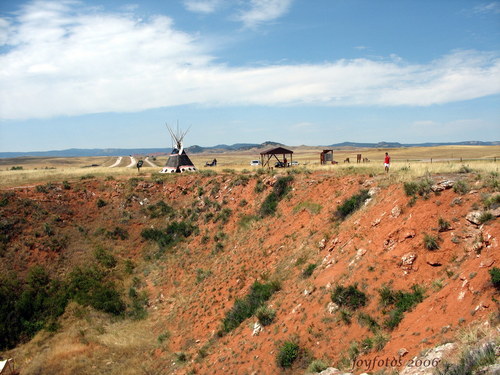 Jump into History at the Vore buffalo Jump
The Vore Site will be open from July 1 through August 6, open 9 am to 5 pm. Guided tours of the excavation building in the sinkhole will be offered. A donation is requested. To protect our employees and visitors, visitors will be required to wear a mask when visiting the site. The Vore buffalo Jump provides a unique insite into  Native American history for over 300 years
The Vore Buffalo Jump features enormous quantities of bone and stone artifacts that are perfectly preserved in discrete, precisely datable layers and held in place within a natural bowl.
Within the site are the butchered remnants of as many as 10,000 bison as well as thousands of chipped stone arrow points, knives, and other tools. The materials are contained within 22 cultural levels that extend downward to a depth of nearly 20 feet.
Because only about 10% of the Vore Buffalo Jump has been excavated, there is potential for decades of scientific research in several different disciplines…archaeology, tribal ethnohistory, zoology, geology, and paleoclimatic studies. Dozens of technical papers based on data from the Vore site have already been published. Just as the Black Hills attracted Native Americans, visitors from around the world are fascinated by Plains Indians. Because it is literally a stone's throw from one of America's busiest highways, the Vore Buffalo Jump is also the most accessible of the major Plains Indian sites to the traveling public.
Until the late 1700s the only beasts of burden used by the Plains Indian tribes were dogs. Dogs, the first domesticated animals in North America, were used for hunting, hauling, transporting, guarding campsites and as a food source. Breeding dogs with wolves was common. Five canid skulls have been found at the Vore Site. These skulls provide evidence that the Native Americans broke off or filed down the canine teeth…presumably to prevent the dogs from injuring their owners or other dogs and to prevent them from chewing through their tethers.
In approximately 1800, during the last hunt at the Vore Site, a wolf-dog was killed and left in the sinkhole. The dog probably belonged to the Cheyenne as there is considerable evidence that this tribe was the last to use the Vore Site. The skull was found during the excavation in 1970 in the first cultural level, the level corresponding to the last hunt at the Site.
---
Inyan Kara
Inyan Kara (20 Miles)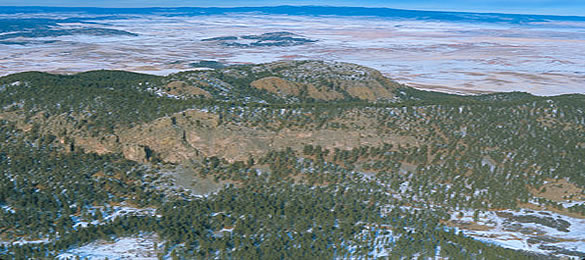 Translated from Lakota as "Rock Gatherer," Inyan Kara is listed on the National Register for Historic Places because of its cultural importance.
It is recognized by the Lakota people as sacred to mothers giving birth. Inyan Kara is also known as one of General Custer's stops on his expedition through the Black Hills in 1874, and stands as a landmark to early travelers and explorers in the region, with the mountain reaching 6,368 feet.
Inyan Kara is located in the Black Hills of northeast Wyoming. While it is located on U.S. Forest Service land, access is limited. Private property must be crossed to reach Inyan Kara, so access is only obtained via the landowner's permission. There are multiple routes to climb the summit, as there is no permanent trail on the mountain; therefore climbers ascend at their own risk.
Inyan Kara is located in Crook County, WY and can be viewed from County Road 585.
For more information, contact the Bearlodge District Ranger Office at (307) 283-1361.
---
Keyhole State Park
Keyhole State Park (23 Miles)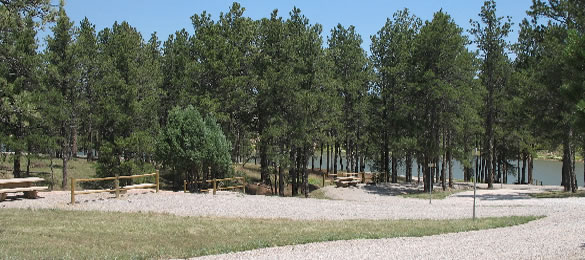 Keyhole is a mecca for both resident and migrating birds of all species. Visitors also have the opportunity to enjoy a variety of other wildlife, including mule deer, pronghorn antelope and wild turkeys. There is a marina located on the headquarters side of the lake and operated by a concessionaire. The concessionaire has pop, alcohol, groceries, bait, tackle, fishing licenses and 10 electric campsites that he reserves. There is a public boat ramp at the marina.
Keyhole Offers Many Attractions and is located on the western edge of the famed Black Hills, between Sundance and Moorcroft, and is easily accessed off I-90 at exit 165 or take exits 153 or 154 in Moorcroft then Hwy 14 north six miles then Hwy 113. Within sight of Devils Tower, Keyhole State Park is situated along the southeast shore of Keyhole Reservoir and offers excellent fishing for walleye, catfish, small mouth bass and northern pike.
Keyhole State Park is open year around and offers nine campgrounds that are all overlooking the lake. There are more than 170 sites with tables and grills. Most of the sites will handle large R.V.'s and trailers.
---
Spearfish Canyon
Spearfish Canyon (32 Miles)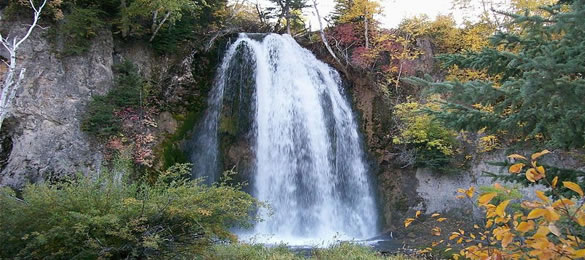 Spearfish Canyon is a deep but narrow gorge carved by Spearfish Creek just south of Spearfish, South Dakota in the U.S. It is located on the northern edge of Black Hills National Forest. Many tourists drive through the canyon, drawn to the region due to its wide range of plant and wildlife, geology, rock formations, and waterfalls. Spearfish Creek holds populations of rainbow and brown trout and is dammed in several spots, affording fishing opportunities. Stocking of trout in Spearfish Creek was discontinued in the 1970's and all trout in the creek today are wild. In addition, remnants of Spearfish Canyon's active mining history are still easily found in some locations.
---
Thunder Basin National Grassland
Thunder Basin National Grassland (50 Miles)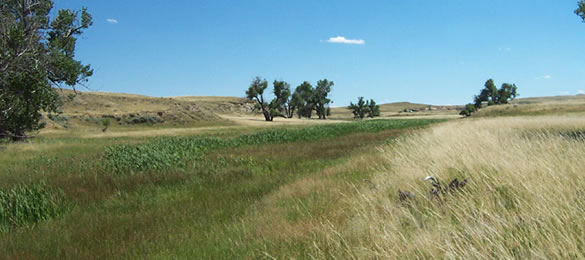 The Thunder Basin National Grassland is located in northeastern Wyoming in the Powder River Basin between the Big Horn Mountains and the Black Hills. Elevation on the national grassland ranges from 3,600 to 5,200 feet, and the climate is semi-arid.
The national grassland provides unique opportunities for recreation, including hiking, sightseeing, hunting, and fishing. There are no developed campgrounds; however, dispersed camping is allowed.
The national grassland abounds with wildlife year-round, provides forage for livestock, and is underlain with vast mineral resources.
---
Crazy Horse Memorial
Crazy Horse Memorial (80 miles)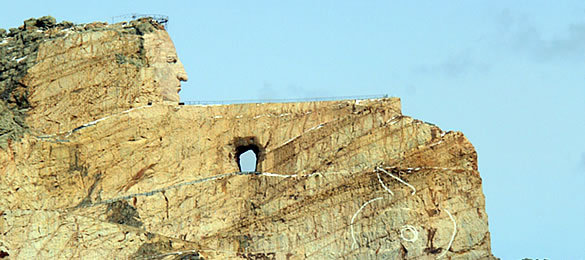 The Crazy Horse Memorial is a mountain monument complex that is under construction on privately held land in the Black Hills, in Custer County, South Dakota. It represents Crazy Horse, an Oglala Lakota warrior, riding a horse and pointing into the distance. The memorial was commissioned by Lakota elder Henry Standing Bear to be sculpted by Korczak Ziółkowski. It is operated by the Crazy Horse Memorial Foundation, a private non-profit organization. The Memorial's mission is to honor the culture, tradition and living heritage of North American Indians.
The memorial consists of the mountain carving (monument), the Indian Museum of North America, and the Native American Cultural Center. The monument is being carved out of Thunderhead Mountain on land considered sacred by some Oglala Lakota, between Custer and Hill City, roughly 17 miles from Mount Rushmore.
---
Custer State Park
Custer State Park (88 miles)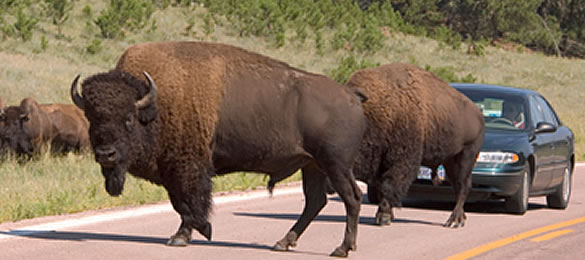 The clear mountain waters are inviting, and the open ranges are waiting to be discovered. Bring your family to Custer State Park, and let yourself run wild. A herd of 1,300 bison roams freely throughout the park, often stopping traffic along the 18-mile Wildlife Loop Road. The herd is one of the largest publically-owned herds in the world.
Custer State Park in the Black Hills encompasses 71,000 acres of spectacular terrain and an abundance of wildlife. Within the park, you'll discover a world of adventure!
---
Mount Rushmore
Mount Rushmore (90 miles)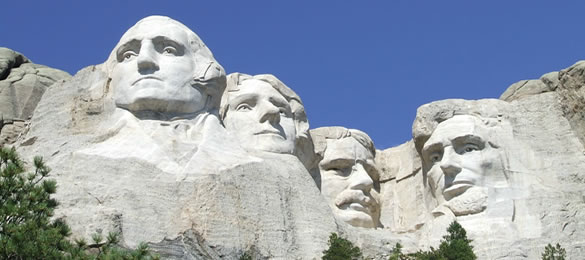 Mount Rushmore National Memorial is visited by nearly three million people each year that come to marvel at the majestic beauty of the Black Hills of South Dakota and learn about the birth, growth, development and preservation of the country. From the history of the first inhabitants to the diversity of America today, Mount Rushmore brings visitors face to face with the rich heritage we all share.