Download the Sundance RELOCATION GUIDE

The official Sundance Relocation Guide outlines information of interest to those considering a move to Sundance, Wyoming. You will find pertinent details on the City of Sundance, Crook County, Health Care, Education, Senior Services and more. The Visitors Guide goes hand-in-hand with the Relocation Guide in providing details on History, Economic Data, Culture, Recreation, Attractions and Business Industry.
The Relocation Guide is a free resource provided by the Sundance Chamber of Commerce and advertising Sponsors.
Click the link to download the Sundance, Wyoming Relocation Guide.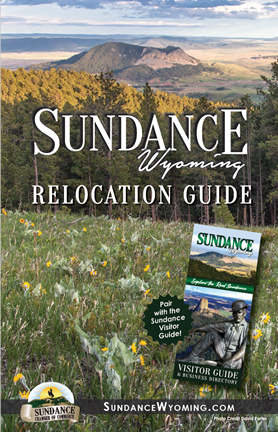 Download the RELOCATION Guide
A great resource for your Sundance area relocation.
---
Additional Relocation Services:
Wyoming Business Council - Business Relocation Assistance
Additional Exam Station Information
All non-commercial road tests are administered by appointment only. Please contact the local exam station to schedule your appointment.
This office will open 1 hour late on the last Thursday of each month for training.
Hours of Operation
Monday, Thursday
9 a.m. to 4 p.m.
Closed for lunch noon to 1 p.m.
Address
224 S. 29th Street
Sundance, WY 82729
307-283-2557
Wyoming DOT Driver Services

Wyoming Driver License Manual
Crook County Courthouse Clerk - Titles, Licensing and more.